Children's Kobushi-Do and Kid Ninja Summer Camp June 12, 2023 through June 23, 2023 9:00am to 3:00pm, Monday through Friday. Cost $249.95 per student, per week. We do have discounted family rates for families with several children.
We are now enrolling for our Kobushi-Do and Ninja Summer Camp. This will be two weeks of learning and fun. We will have outdoor classes, Ninja obstagle courses, weapons training, throwing Shuriken (throwing stars) with Sensei's observation and all safety aspects, self defense and martial arts training and much more.
There will be downtime with breaks and lunch time. There will be cartoons and movies if it is raining outside. You supply the snacks and we will supply lunch.
We may be training at other locations close by when training outdoors. Those locations will be announced at the beginning of the Summer Camp. Come and join us for fun and martial arts. If we have a large turn out we may add a third week!
We must have at least 10 students enrolled for the Summer Camp before the Summer Camp starts. To enroll please send the enrollment form by email. [email protected] All enrollment fees due by May 29, 2023.
Students who attend regular classes get a discounted rate of $199.95 per week for the Summer Camp.
There will be discounted class rates available for all Summer Camp Participants that want to enroll into the regular martial arts class programs after the Summer Camp ends. Please contact Sensei Murdock for the special rates.
Ninja Sword Training
We will be exploring the sword and how it was used back in the day. This is very fun training.
Ninja Sword Training
Students will learn how to use the sword just like they did back in the day. This will be a safe training enviroment with padded weapons and wooden weapons out doors.
Obstagle Courses, Indoor, and outdoor weather permitting
We will be setting up outdoor obstagle courses if the weather permits.
Self Defense Training
Students will learn basic self defense and some reality martial arts.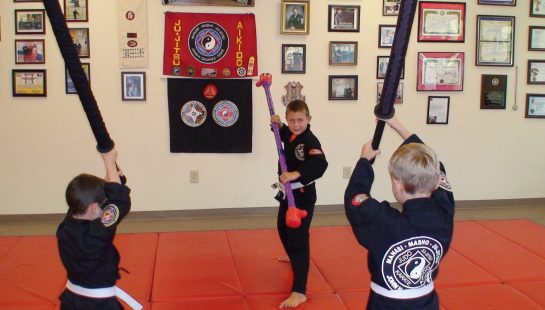 Ninja Weapons Combat Training, Padded Weapons
We will have sparring with padded weapons which is a lot of fun for children.
Hanbo 3ft. Staff Training
Students will learn a real Ninja weapon called the Hanbo. This is also a lot of fun.
More obstagle courses
We plan to have many other fun activities throughout the camp. We will be advertising those soon.
Our Summer Camp is based on the real martial art of Ninjutsu which is the real historical martial art of the Ninja.
The martial arts in our summer camp are based on the Samurai and the Ninja. There is also modern self defesne that will be taught.